On the cover of Classical Guitar Magazine.
Cem Duruöz on the cover the Classical Guitar Magazine, with a detailed feature article. Read more...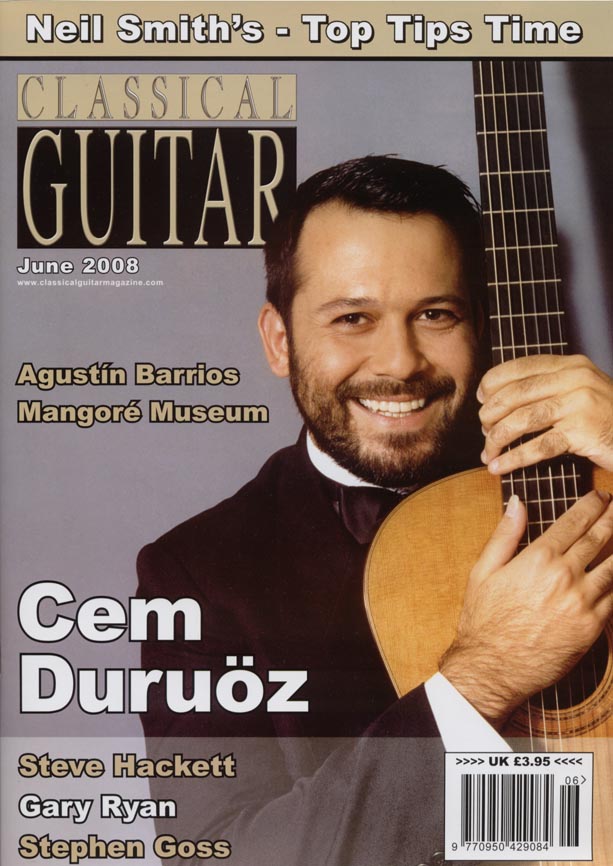 Rodrigo's Aranjuez performances
Cem Duruoz was the soloist with the Bilkent Symphony Orchestra to perform Rodrigo's famous Concierto de Aranjuez on May 14 in Ankara and on May 17 in Erzurum, in Turkey.
"His flawless classical technique, depth of color, long flowing lines, clean playing and tight rhythmic style made everyone listen in an entirely different way. In a total hush, I felt the audience transformed." - ARG Music in Concert
For the full review click here..
Performance with the Ridgewood Symphony Orchestra

Cem Duruöz as a soloist Rodrigo's Fantasia Para Un Gentilhombre at Ridgewood Symhpny's 2013-2014 season opening concert in New Jersey. Details here...
At the Carnegie Hall
Cem Duruöz has performed at the Carnegie Hall weill recital Hall three times. Most recently for the D'Addario Foundation and Alhambra Guitars. He also gave a recital titled "Guitar in Turkey" for the Moon and Stars Project.
New CD: Treasures of Anatolia
The album includes traditional Turkish folk and classic music arrangements by Duruoz. You can review and purchase in the store, or CDBaby.com! More details here...
London Debut at the Queen Elizabeth Hall/Purcell Room.
Cem Duruöz gave his London debut concert at the Purcell Room on March 16, 2009 for LACCS. For photos visit their web site: www.laccs.com